Hello Spring Fashion 2020
Spring/Summer 2020 Fashion Trends To Start Thinking About Now
New York is the city that sets the tone for the major fashion weeks to come. It may favor grit and glamour over the certain joie de vivre that London, Milan, and Paris boast, but New York has its own certain power. It's a city of energy and individuality. This season, both the brands and the trends of New York Fashion Week Spring/Summer 2020 emphasize this: Fashion is not one size fits all. Labels eschewed traditional runway formats — Pyer Moss' show included a gospel choir; Tom Ford showed on a subway platform; and Rihanna's Savage Fenty show was presented in concert form — and designers presented collections that emphasized the idea of dressing for one's self, even when embracing the fashion cycle.
The rise of quirky trends like eye-catching puff details, child-like kitsch, and even the resounding embrace of ultra-loud orange all point to the fact that designers are challenging customers to embrace their quirks and push outside their comfort zones. New York's plethora of downtown indie brands excel here; they're finding ways to make tradition work for them, not the other way around. Men and women walked down many runways together dressed in clothes that belong to all.
Also worth noting this season is the shift in the seasonality of clothes presented. Editors, designers, and shoppers alike complain about the confusing nature of the trend cycle, and for the first time, it seems designers looked to remedy this for a larger audience. In September, you see spring and summer collections that arrive in stores in January — a bit obtuse for most. But for Spring/Summer 2020, many designers shifted their outlook, presenting more coats, boots, and moody hues than normal. With so many direct-to-consumer brands thinking about what products consumers need right now, the runway designers looking forward are still embracing a bit more of the consumer-focused view. Below, the eight trends poised to dominate six months from now.
Funky Florals
You already know that florals are to be expected this time of year. But this year it's a slightly different twist. instead of the micro-florals that have been popularized by Instagram brands like Reformation and Rouje, the runway was bursting with oversize, abstracted florals, Which I adore! Many of which had a more digital, modern feel. While Ulla Johnson bottom showed inkier version and Carolina Herrera presented her more summery iterations, seen above.
The crafted trend — which was big this year thanks to crochet and beaded jewelry — is back in new forms. More quilting is to come, sure, but also look for quirkier iterations like Gabriela Heart's incorporation of agate slices, and Collina Strada's lace-covered sneakers. I'm in love with this spaghetti strap Tory Burch Camisole top and patchwork maxi skirt.
The most popular colors this season fell into two major categories: sweet, sorbet pastels, and bright eye-catching neons. Shades of orange in both buckets appeared just about everywhere, including Oscar de la Renta, Eckhaus Latta, Alice and Olivia, and Sally Lapoint. Often orange is considered one of the trickier hues to style since it's unmistakably loud, but for spring, there;s literally an orange for everyone. I have to admit I'm smitten over Alice and Olivias spring line.
Designers weren't resigned to drawing from a single decade for sartorial reference this season. The strong shoulders of the '80s, the sleek silhouettes of the '90s, and the prim suiting of the '30s were all present this season. But if one era dominated them all, it was the swinging '70s. Between the three-piece suiting, psychedelic prints, platform heels, and funky accessories, there will be plenty of ways for you to lean into the groove.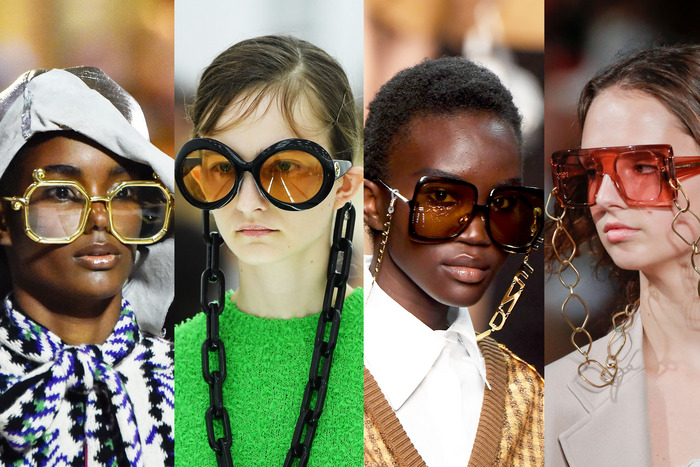 Left to right: Prada, Gucci, Fendi, Stella McCartney